Like finding the love of your life, a unique local cocktail can be elusive.
But if you happen to be in Brooklyn, you're spoiled with choices. We've narrowed it down for you, focusing on places that would be great date venues, as well as haunts populated by cool and attractive singles. Below are our favorite distilleries and bars serving New York spirits to Brooklyners.
Grand Army Bar, Downtown Brooklyn
Grand Army Bar is known for its classic East Coast fare and locally sourced cocktails. Here, you'll find New York-made spirits stirred into delicious concoctions you can't resist. "The Buckskin Stallion" from Grand Army's Fall 2018 menu is a solid first-drink option: It combines New York rye, chicory, Campari, and vermouth into a contemporary take on the original Manhattan.
The Shanty, Williamsburg
The Shanty is the New York Distilling Company's own full-service bar and is as close as you can get to drinking from the source. Call out any cocktail (or neat pour) you want. Favorites include "Dorothy Parker American Gin", "Mister Katz's Rock and Rye", and "Chief Gowanus New Netherland Gin."
If you're a craft beer person who feels at home in a tap room, you'll love The Shanty's exposed industrial equipment and barrels upcycled as decor.
Glorietta Baldy, Bed-Stuy
Named after a 10,000-foot-high mountain in New Mexico, Glorietta Baldy is a low-key hang that serves local beers and wines as well as excellent seasonal cocktails. The bar's founders are mountain-biking enthusiasts, and so they named their Bed-Stuy bunker after one of their favorite places to ride.
If you're feeling adventurous, the winter cocktail menu features a drink called "Acqua in Bocca!" made with Campari, sweet vermouth, and draft local IPA.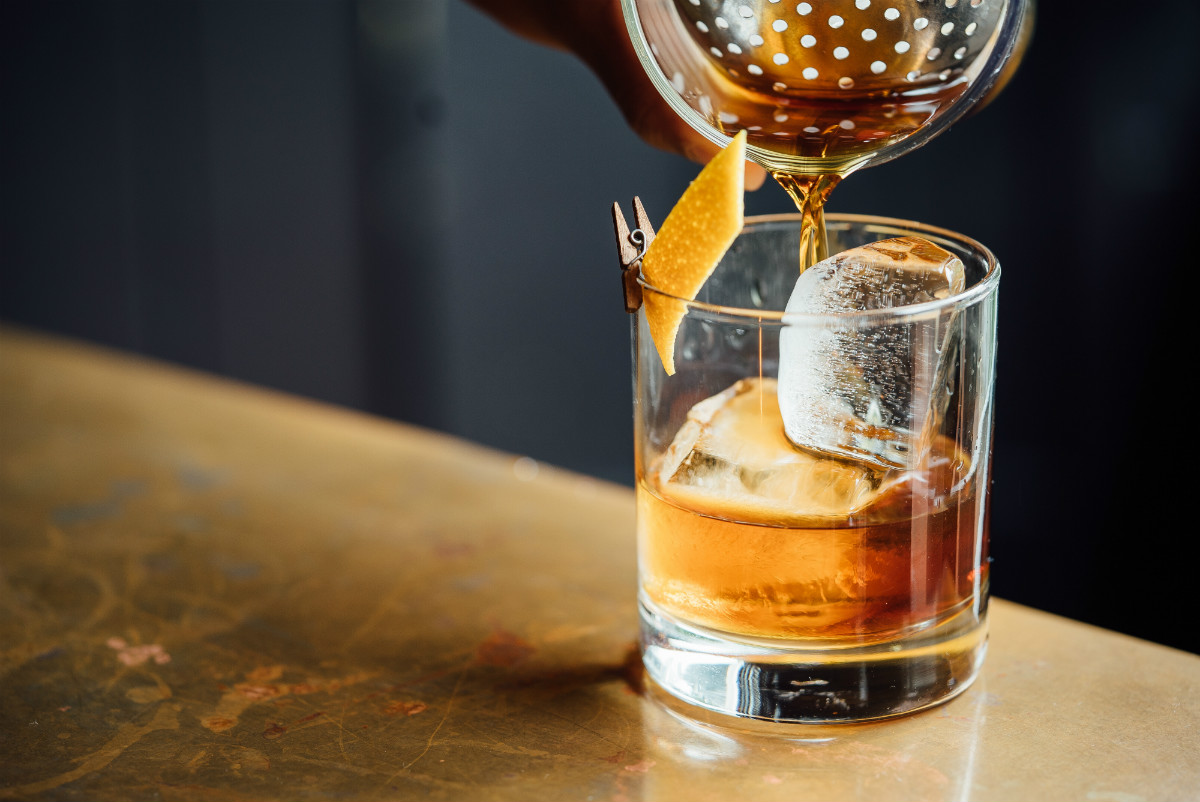 The Gatehouses, Brooklyn Navy Yard
Set by the entrance to the historic Brooklyn Navy Yard, The Gatehouses is Kings County Distillery's tasting room. The Gatehouses specializes in spirit infusions, letting your taste buds feast on flavors like grapefruit jalapeño moonshine, strawberry ginger moonshine, and chocolate whiskey, (which is infused with ground cacao husks from Mast Brothers Chocolate just down the road). In between drinks, order a honey and hazelnut cheese plate to level out the flavors. For a deeper taste of history, indulge in the distillery tour on Saturday and Sunday afternoons.
Van Brunt Stillhouse, Red Hook
Van Brunt Stillhouse is a distillery that sources wheat, rye, and corn from farmers in upstate New York. While specialized in making different kinds of whiskey, they also offer a craft rum aged in charred barrels. Best of all, Van Brunt organizes an $8-old-fashioneds happy hour every Sunday.
Cardiff Giant, Clinton Hill
Named after one of the biggest hoaxes in American history, Cardiff Giant is no joke. In fact, this bar takes local spirits seriously, only selling booze made in New York State. You'll find an extensive list of spirits from all over the Empire State, including a few favorite companies such as Finger Lakes Distilling, Empire Spirits, Lockhouse, Pine Barrens, and Coppersea.
If the conversation lulls, you can always hit up one of the vintage, themed game machines in this playful bar.
Eugene & Co., Bed-Stuy
Enjoy some of the best spirits in Brooklyn in the inviting atmosphere of the Standard Wormwood Distillery's Eugene & Co. Here you'll find a toddy with Standard Wormwood's rye alongside chamomile, cinnamon, lemon, and Angostura bitters. Not into whiskey? Eugene and Co. has all kinds of spirits as well as hearty meals to kick off (or follow!) a night of sipping bourbon. Favorites include a brown butter sage gnocchi, a meatloaf sandwich, and roasted brussels sprouts with pickled apple cider reduction.
Widow Jane Distillery, Red Hook
Widow Jane prizes itself on making whiskeys that reflect the character of Brooklyn in both taste and variety. The distilling process uses limestone water from the Rosendale mines of upstate New York to cut each barrel. The high-mineral content of this water enhances the flavor of Widow's whiskeys and comes from the same mine that sourced building materials for the Empire State Building and Brooklyn Bridge.
Stop into the distillery for tours and tasting rooms, though the former might require a reservation if you'd like to attend on a weekend.
The Moonlight Mile, Greenpoint
Greenpoint's rock 'n' roll-themed bar places special emphasis on American whiskey, with more than 200 varieties lining the bar. While you'll find authentic whiskeys from across the country, The Moonlight Mile has a great selection of New York whiskeys, including Stillhouse, Kings County, and Widow Jane. The bar also displays local art on its walls and features a customer-curated jukebox.
Interboro Spirits and Ales, East Williamsburg
You can feast on fresh, boozy concoctions at Interboro Spirits and Ales. This distillery prides itself on making simple drinks from basic ingredients: barley, water and rye. But don't mistake simplicity for lack of taste, their flavor-forward spirits have their own special quality, especially when paired with snacks from the taproom.
Interboro's tasting room also offers its craft beers on tap, so you will find the whiskey-loving patrons sitting alongside IPA- and farmhouse-sippers. With tap takeovers, release parties and heaps of hot food on deck (looking at you, drunken chicken sandwich), Interboro is the best of both worlds.
The best part about all of the places on this list? They're low-key hangs that offer world-class libations. No black tie, no passwords at the door – just a friendly setting where you can have a conversation and bond over your shared excellent taste in drinks.
Images by: Michael Discenza, Adam Jaime, Shangyou Shi