It's easy to end up at your local joint when you're keen for an after-work pint. But if you're on a first date and want to make a good impression, a refined-yet-cozy cocktail bar might be the way to go.
Fortunately, London is flush with cocktail bars that bear a certain understated opulence. No other city in the world can offer fancy libations in such well-worn, intimate settings.
When you need a date option that sets the right mood, these 10 cocktail bars are excellent choices.
The Racketeer, King's Cross
"Local classic cocktail bar, booze emporium, and bottleshop…" What more could you want out of a get-to-know-you first date spot? The Racketeer regularly hosts bar events to keep things interesting, and patrons can swing by for free whisky and mezcal tastings. As for the interior, The Racketeer is a perfect mix of rustic, bentwood furniture and the kind of leather sofas you would expect to find in your grandfather's study (rare brandies and 18-year-old whiskies included). Patterned indigo wallpaper, bright Art Deco bulbs, and a secret walled garden round out the unique decor.
The Cocktail Trading Co., Brick Lane
The Cocktail Trading Co. blends modern mixology with a touch of vintage charm. Bar staff take their jobs seriously here, and they are often nominated for national competitions. Think perfectly frothed egg whites and tart rhubarb tequila drinks set to the backdrop of live classical music on the piano. The bar can get crowded, so don't book during peak hours if you prefer extra elbow room.
The Gibson, Old Street
Everything you need to impress a first date is on tap at The Gibson. For starters, each cocktail on the menu comes with its own set of accoutrements and tasting notes. You can sip on some of the most inventive drinks in the City here, with ingredients like pine fir smoke, black sesame paste, pickled romanesco, and mangosteen. Turn up to The Gibson on the right night, and you just might have live synth pop or jazz piano to set the mood.
69 Colebrooke Rowe, Islington
A speakeasy distinguishable only by a vintage lantern hanging in the alley, this hidden gem is tucked far away from the crowds. 69 Colebrooke Rowe (or "The Bar With No Name") serves up nostalgic cocktails in a cozy one-room setting. Drinks feature creative ingredients like cocoa butter vodka, tomato yolk, and celery seed liqueur. The interior has an old film-noir feel, with an early-20th Century mahogany bar and black-and-white flooring. In addition to regular classic-film screenings, jazz pianists and other performers play regularly.
Found, Shoreditch
Located below the Saturday night staple, Casita, Found is a bar that's filled with nooks, crannies, and surprises. The cocktails never cease to amaze, and the space is spread out over four rooms, making it one of the coziest bars on this list. There's nothing particularly fancy about Found, but it is a reliable and easy-going establishment in a neighborhood that doesn't always foster intimacy and coziness on a night out. Instead of worrying about whether the drinks are good or the heater is too hot, you can focus on getting to know your date's deepest desires.
The Library Bar, Hyde Park Corner
Bibliophiles and academics love Library Bar London. It's what a book-lover's dreams are made of: velvet-clad armchairs, large-scale oil paintings, and perfectly-paired bar snacks. This bar is also famous for having excellent service. This helps to set the right tone on a first date, along with the gilded wood decor, the live piano, and the vintage whiskies. Smart dress highly recommended.
Disrepute, Soho
Disrepute is an underground bar perfect for a luxurious, indulgent date. This basement haunt is decorated with rich velvet, dark wood, vintage rugs, and flickering lights that add a castle-like atmosphere to the evening. Each drink also comes with a special story (which can also make the extensive cocktail menu difficult to get through). This members-only spot is usually reserved for those with a special invitation; non-members can reserve a space by emailing in advance. So save this one for when you want to make an unforgettable first impression.
The Mulwray, Chinatown
Step inside the ordinary pub atmosphere of The Blue Posts, and you might not expect to find a great cocktail bar. But this unexpected surprise is exactly what makes The Mulwray so great. Head upstairs to The Mulwray, and you'll find a bar that's small, intimate, and tasteful. The drinks menu features classics like a perfectly made Old Fashioned as well as innovative drinks like the Mexican Fizz, made from sherbet and tequila.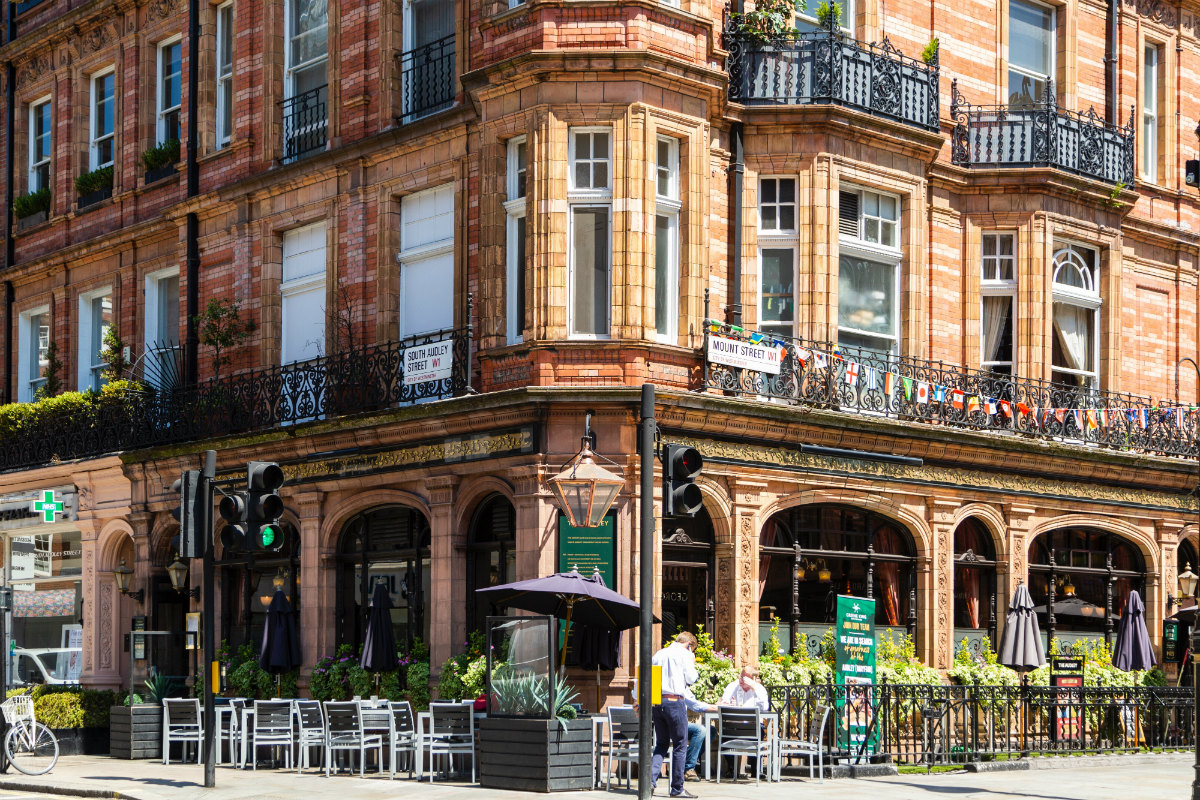 Bar Termini, Soho
Bar Termini is known for its Negroni, and there are gentle nods to Italian culture and dining throughout the space. It's la dolce vita without ever going over-the-top with the aesthetic. Bar staff, clad in white uniforms, take a straightforward approach to classic cocktails, and nostalgic family mementos line the walls. Something about this place feels like stepping back in time.
The Connaught, Mayfair
If you have strong opinions about how a martini should be made, you will love this elegant bar. A night out at The Connaught is a great excuse to don heels or a bow tie. After you grab a drink from the trolley, be sure to soak in the Irish art along the walls. These touches help The Connaught stand out, even in a neighborhood like Mayfair.
The Bloomsbury Club Bar, Bloomsbury
The Bloomsbury Club Bar is one of the best places in London to experience 1920s-style nightlife. The bar is inside the Bloomsbury Hotel and draws from a rich hedonistic history, from the long-forgotten cocktail recipes to live jazz. Plus, there are two main seating areas for settling in and getting to know your date. Whether you choose the interior, adorned with artwork and books, or the heated brick-lined patio, this place is certain to woo.
Heads + Tails Bar, West Hampstead
Heads + Tails Bar offers a high-contrast experience. Upstairs, spritzes, bubbles, and gin cocktails are served atop a marble-clad bar with gilded touches. Downstairs, you'll find leather armchairs, mood lighting, and strong whisky pours. Heads + Tails also has two gorgeous gardens, one on each level, to keep things fresh and inviting.
Images by: Riaz Gorbaz, Lily Banse, Peregrine Communications