Indulge in the mushiest, corniest behavior known to man! A chance like this comes only once a year!
Yes, we're suggesting a first date for Valentine's Day. It might seem counterintuitive to celebrate with a stranger, but dating is always a gamble, so why not let it all ride. Not convinced? Hear us out.
Why Valentine's Day Makes a Great First Date
Go against tradition and defy societal norms. Actually, if you're considering it, you're not alone – 53 percent of respondents in an AskMen survey admit that they'd go on a first date on the holiday, writer Candice Jalili says.
And here's an unanticipated silver lining – it's also an opportunity to escape the cringe-worthy plans of your single friends. Not so keen on eating mint chocolate chip and hearing people bash their exes? Plan a date, suggests Lily Feinn, writer at Bustle.
Elite Daily writer Jamie Kravitz adds her own twist: "Pick an activity that is so cheesy that you can poke fun at how cliché you're being. Go to a roller rink and rock the couples' skate, or dine in the dark à la About Time. If you can't get to London or Paris, consider DIY-ing a similar setup in your apartment with croissants and Camembert." Basically, the holiday gives you permission to have fun being facetious together, and even doing a little playful imagining of what life together could look like.
It's a good plan… acknowledge the pressure that many people feel around the day, and then upend that pressure with humor and creativity.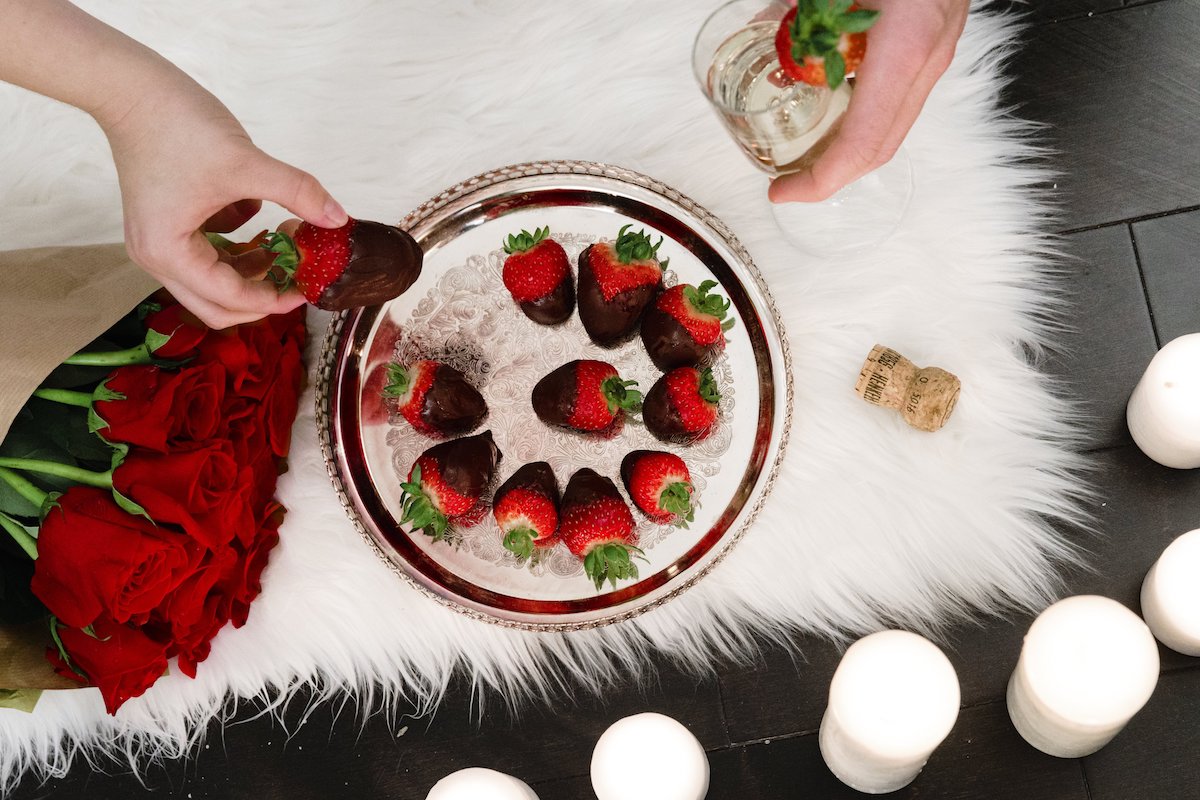 Or You Could Just Embrace the Day
Tacos and 5Ks aside, the real fun of dating on Valentine's Day is you get to tackle cultural expectations head-on. What's more, someone in your city is probably putting on a Valentine's Day event worth checking out:
Or You Could Keep the Date Casual
Kravitz's idea of doing croissants and Camembert might require a little more chemistry than your average first date. If you don't feel like satirizing the tropes of romantic love, you can approach the day of love from the flip side. Bustle writer Natalia Lusinski describes a Valentine's Day in which she and her first date went somewhere that wouldn't be celebrating the holiday at all. This allowed them to simply enjoy each other's company and not "force love," as she writes. After all, it's hard to connect when you both feel pressure to perform.
Unfortunately,  this might rule out many restaurants for the evening. If you still want to dine, consider Esquire writer Sarah Wexler's advice that you go on a taco tour. "Planning a route so you can try delicious tacos (and accompanying drinks) at different stops along the way is more fun than sitting still," she writes. "Call it a mini-adventure."
You could also do something adventurous like go to a rock climbing gym or participate in a 5K. Doing something active will get your minds off the holiday and lets you pretend that February 14 isn't all it's cracked up to be.
Take a Chance — You Will Be in Good Company
Many couples have had their first dates on Valentine's Day.
For example, Cosmopolitan's writer Samantha Swantek has the story of one woman's first date with her now-husband. They had been friends. With no ice to break, they were able to keep the date simple: he brought cupcakes to her house, and they ended up talking all night. No pressure, no being surrounded by other couples, and no sparkly heart-themed decor.
Elite Daily's Willa Bennett has a similar story. Hers didn't go quite as planned:. "He inched his body closer to mine, eventually grazing his cheek against my collarbone," Bennett writes. "Moments later, I leaned in to kiss him. He grabbed my hand and then bit my ear, moving his lips back to mine. My heart was racing. But suddenly, he pulled away and started apologizing profusely. Confused, I backed away. He apologized again. I looked up. 'I'm SO sorry, but I think I've bled all over your face,' he declared as he wiped the blood pulsing out of his left nostril. He had in fact, gotten a nosebleed all over my face." Amazingly, the two laughed it off,had an enjoyable Valentine's Day, and have lived happily ever after.
Another reason to take your chances on Valentine's Day: You never know who you'll bump into. Just take the case of UMass Amherst students Alex and Daniel Smith. The two met on Valentine's Day — at the movie theater concession stand while Daniel was on a date with someone else. Daniel had struck up a conversation with one of Alex's friends, and the group chatted briefly while waiting for snacks. "The next day, I got a text message from my friend saying that that random dude I met had liked me," Alex writes. "Less than a week later, we went on our first date. Two and a half years later we moved in together, and three and a half years later he proposed."
The moral of the story… good can come of any experience. We know there's a certain pleasure to sitting on your couch inhaling conversation hearts until you're pink in the face. But dating is like most things in life – you have to play in order to win. Valentine's Day heightens the stakes, so play big – you might come out a winner.